Messages From
The Federation Of Light


Blossom began communication with The Federation Of Light, an 'Off World' Conscious Light Energy, in 2005.
Their messages of wisdom and Love are now world renowned.
This Year's Messages


Once again, here we are. Sharing the Love, as more and more all over the world are recognising that this is why we are here. Hello! Dearest Blossom … Dearest Souls of Truth … what a Joy to be in your company once again, indeed. We are engaged in conversation with you...
read more
Authentic translations of the channellings are available at:
Previous Years' Messages


Click on a sun to view the year's channellings:
Authentic translations of the channellings are available at:
Channelling Topics of Interest
Xavier is the gentleman who spent a crazy number of hours doing the Channelling Indexing and Topics of Interest for your ease. Should you feel you would like to 'Bless him' for this incredible work that he has done freely and Lovingly from his heart, please make a donation to him. Thank you.
Direct Voice Channellings


eBooks


The following eBooks are available for free download: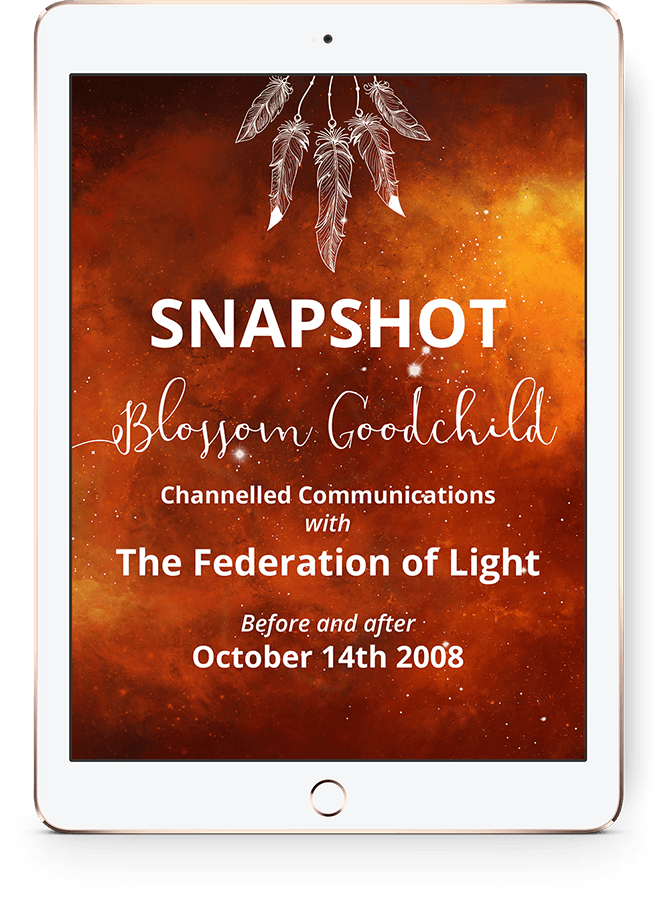 This edition of Snapshot includes all the channelled communications between The Federation Of Light and Blossom Goodchild from the completion of The Bridge through to the October 14th 2008 message and subsequent messages through October 14th 2008 to their final communication before that date.
Books & Meditations


Get In Touch
For any information on Blossom and The Federation Of Light, please feel free to get in touch.